Dialogue with UN Member States on Addressing Sexual Harassment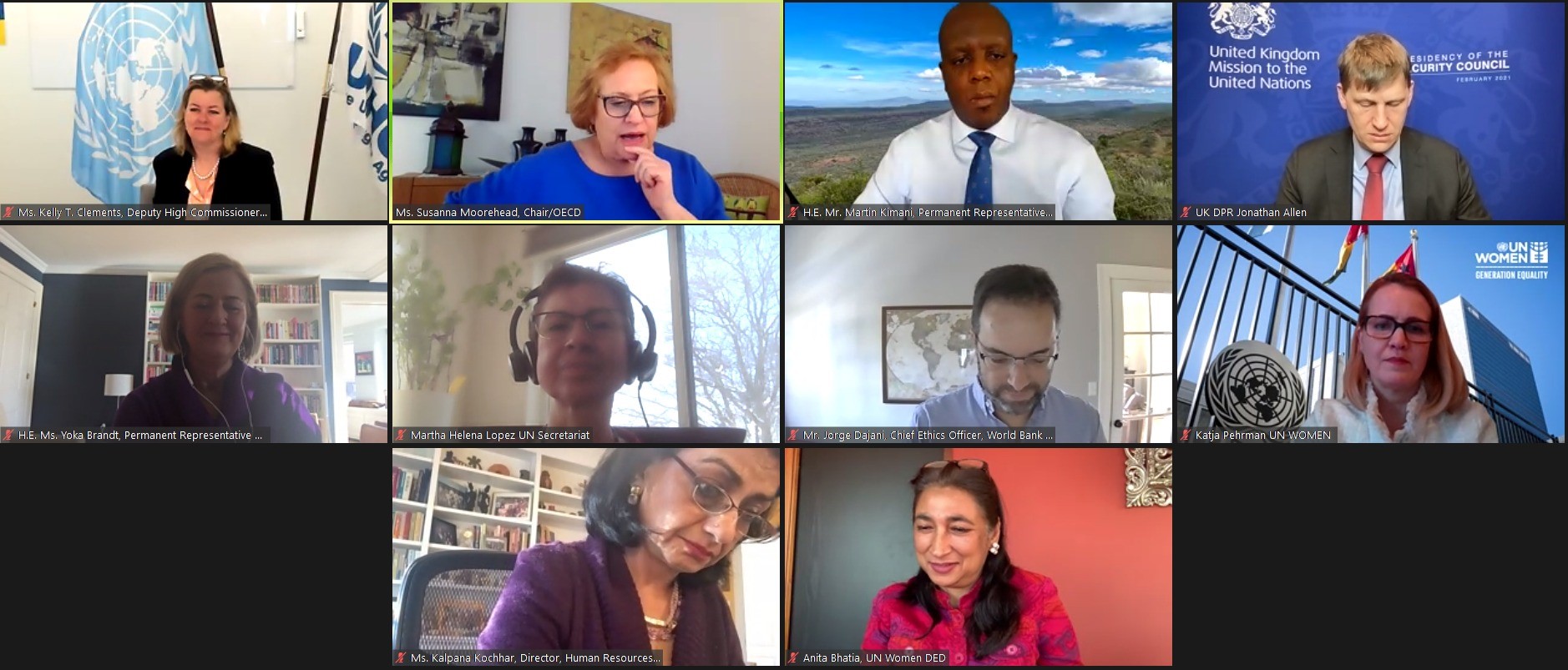 A dialogue between Member States and the CEB Task Force on Addressing Sexual Harassment within the Organizations of the United Nations took place virtually on 8 February 2021 as part of the ongoing efforts to strengthen actions to addressing sexual harassment within the UN system and beyond. The meeting was hosted by the Task Force together with the Group of Friends to eliminate sexual harassment, the UN Secretariat and UN Women.
The dialogue is part of the actions of the Task Force focusing on outreach and knowledge-sharing to eliminate sexual harassment. The event saw an update on the progress made and planned actions of the CEB Task Force. In a peer to peer exchange, participants identified common themes, including clear procedures and policies, the necessity of transforming organizational culture through leadership commitment and improving women's leadership, the importance of resources and adopting a victim-centred approach. It became clear that sexual harassment can only be prevented, addressed and eradicated by working closely together.
Find below the statement by Kelly T. Clements, Chair of the CEB Task Force and a report of the event prepared by the Office of the Focal Point for Women in the UN system at UN Women.
Participants:
Ms. Kelly T. Clements, Deputy High Commissioner for Refugees and the Chair of the CEB Task Force
Ms. Anita Bhatia, Deputy Executive Director, UN Women
Ms. Martha Helena Lopez, Assistant Secretary-General for Human Resources, UN Secretariat.
Panelists:
H.E. Mr. Martin Kimani, 

Permanent Representative of Kenya

H.E. Ms. Yoka Brandt,

 Permanent Representative of the Kingdom of the Netherlands

H.E Mr. Jonathan Allen

, Deputy Permanent Representative of the United Kingdom

Ms. Susanna Moorehead, 

Chair of the Development Assistance Committee, Organisation for Economic Co-operation and Development

Ms. Kalpana Kochhar

, Director, Human Resources Department, International Monetary Fund

Mr. Jorge Dajani, 

Chief Ethics Officer, World Bank Group
Facilitation: Ms. Katja Pehrman, Focal Point for Women in the UN System at UN Women
Addressing Sexual Harassment
Documents
20210208 Statement - Kelly T. Clements CEB TF Chair.pdf

PDF | 176.52 KB

2021-02-08 Report CEB SH TF Dialogue with UN Member States_Summary.pdf

PDF | 185.24 KB